Description
Civil Engineering Structural PE Exam Crash Course 02 is comprised of 150, online-type exam questions. The solution sheets to the exam is an excellent addition to your Test-Day Resource Library©. The types of questions on the Crash Course range from Code Issues to Design, Engineering, and Construction topics. Each of the 4 Crash Courses may* qualify for up to 5 PDH (Professional Development Hours)/0.5 CEU (Continuing Education Units.)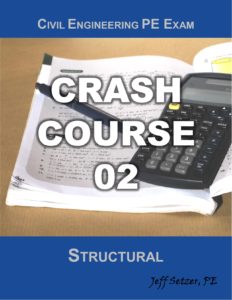 This Crash Course is designed to help you prepare for the PE Exam by following these 3 steps:
Work through the information in the Crash Course … follow the references … dig deep.
Work as many problems as you can find and note where you have difficulties.
Take the time to put together a comprehensive Test-Day Resource Library©
Remember, this is a process. If you will:
spend time every day
work the problems
assemble the resources
… you will be successful.
If there is anything I can do for you, please do not hesitate to ask.
To Your Success …
Jeff Setzer, PE



Civil Engineering Structural PE Exam Crash Course 02